This piece was originally published in BBC, and it focuses on the way NOW! has managed to innovate and perform protests during the pandemic. Click here to read the original piece.
Protests happen around the world every year - and 2020 has seen its fair share of high-profile, dramatic demonstrations.
Hundreds of thousands of people have protested against issues ranging from racism and corruption, to disputed exam and election results. But 2020 has also been different from previous years for one obvious reason - the protests have been held at a time of a global pandemic.
In many places, large gatherings, including protests, have been banned and people have been arrested, accused of breaking lockdown rules at demonstrations.
Meanwhile, others have opted not to take part in protests because of fears they could catch or spread coronavirus. We spoke to activists about the ways they have tried to protest responsibly and the difficulties they have faced.
How do you protest safely?
Protests broke out around the world earlier this year after black man George Floyd was killed in police custody. British student Malaika Gangooly, 20, was among those to organise a Black Lives Matter (BLM) rally in the wake of his death.
She said the issue was so important that she felt she had to act, but that she wanted to make the event in Essex, England, in June as safe as possible.
"We were adamant that everyone coming had to come in PPE, and on the day I was handing out extra masks," she said. "We also decided that for the march we would set everyone off in groups of six at 20-second intervals to somewhat stick to governmental guidelines."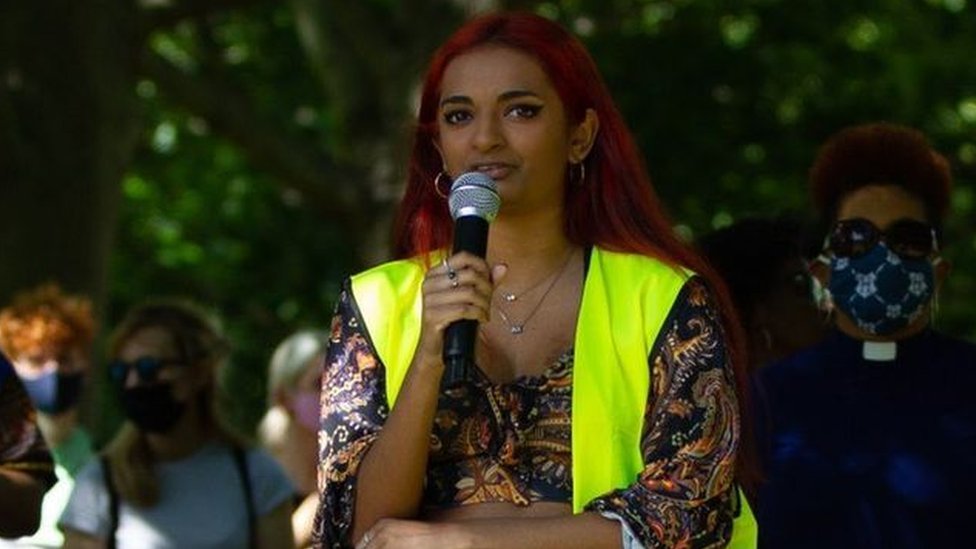 Lynn Murphy, 28, has attended numerous protests, including for BLM, in the US state of Virginia in recent months. She said she and those around her have always worn masks, but admits social distancing wasn't always possible.
"For me personally the issues are worth the risk, but I understand not everyone has the same risk assessment for that," she said.
Back in the UK, 18-year-old Stanley Lewis organised a demonstration this summer against algorithm-generated exam results, which critics said penalised students from poorer schools.
It was his first experience of planning a protest, and he said he found it was not possible to convince everyone to follow coronavirus measures.
"I was wearing a mask and I wanted other people to wear a mask and be safe with it. But a lot of people weren't and there wasn't really anything we could do," he said. "I think it was more important to do the protest than not call it and have this injustice done."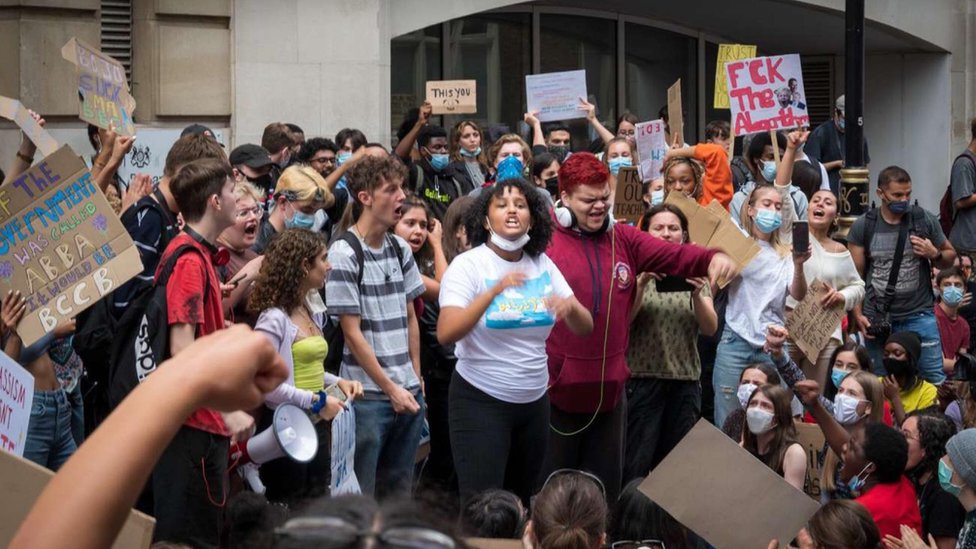 Protesters and activists have also faced criticism for gathering during a pandemic, with opponents calling them irresponsible or foolish.
Experts say the more people who come together at big gatherings, and the longer they are together, the higher the risk. If protesters travel from outside the local area, and if people can't socially distance when they are there, that increases the risk further.
Governments around the world have taken different approaches to protests. Following Floyd's death, some UK government and police officials warned people against protesting. Prime Minister Boris Johnson said people had a right to protest, but should do so "in accordance with the rules on social distancing".
In the US, protesters in cities including Washington DC, New York and Boston were urged to seek coronavirus tests. But some countries have taken stricter approaches, with Israel banning mass demonstrations, citing the risk of transmission.
Many protesters around the world are young - and hence less likely to die from Covid-19. But there are fears that they could still infect older, more vulnerable people, particularly if they are asymptomatic.
Saskia Popescu, an infectious-disease epidemiologist at the University of Arizona, said large gatherings always increase the risk of transmission, particularly if people aren't distanced, spend long periods together, and are shouting or chanting as part of the protest.
But she said evidence suggests BLM protests in the US this year did not lead to significant surges in cases. "In general, the outdoor protests, widespread mask usage, distancing, quarantine after protests, and focused communication/testing appears to have helped," she told the BBC by email.
"Any time you have a lot of people coming together there's concern for transmission of a respiratory illness."
Backlash and arguments
Several people told the BBC that their decisions to hold or attend demonstrations had been met with concern from friends and family.
Disha Ravi, a 22-year-old climate activist with Fridays For Future India, said she has attended one physical protest since the pandemic began - the 25 September global day of climate action, which coincided with farmers strikes in the country.
Some of Disha's loved ones "thought it was unsafe and unfair to participate in large gatherings where you could put other people at risk as well as yourself."
"I reassured them that we would be social distancing and taking lots of precautions. But they were initially concerned," she said.
Lynn said her decision to regularly attend demonstrations as a protester and as an "independent reporter", live-tweeting from the scene, has also been met with concern from relatives.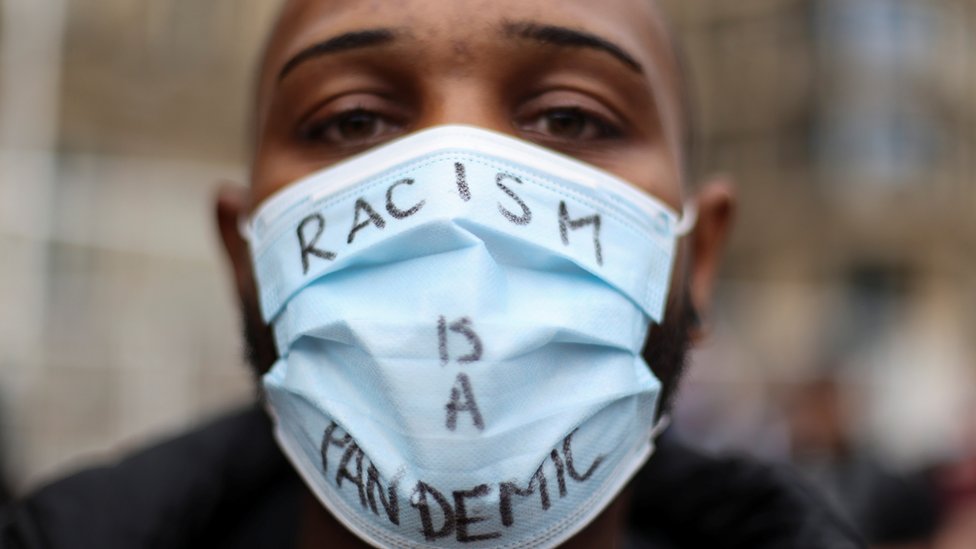 She responded by explaining how important the issues are to her and the measures she has been taking to stay safe.
She said most people in her immediate family now "kind of understand, but I haven't convinced too many people to go out and protest with me".
Malaika said she faced "a lot of backlash" after organising the BLM protest this summer. But while this initially centred on people saying it was dangerous to demonstrate, she said much of the criticism later came from people who opposed the cause itself.
New ways of protesting
The pandemic has led some activists to get creative in finding ways of protesting without the need for social contact.
Indian climate activist Disha said she and fellow campaigners have moved more of their focus online, where they have found that it is easier to mobilise support.
"Normally if there was any law or bill that we objected to that was going to be passed, we would send our objections by post," she said. "But now we've moved to email."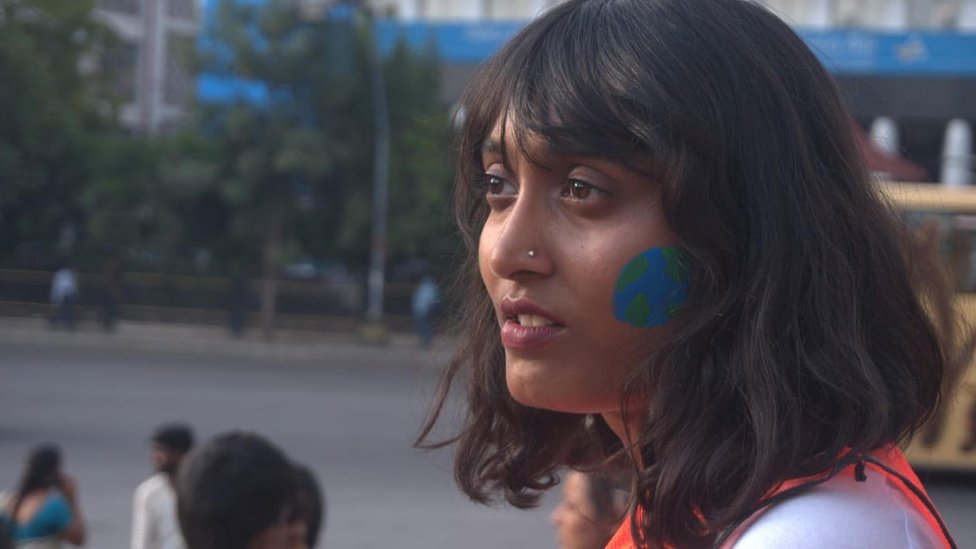 Earlier this year, the group's website was temporarily blocked after activists sent emails en masse to the country's environment minister opposing proposed legislation.
At the protest earlier this year, they encouraged people to make banners and hang them from their houses or along the street so that their messages could be seen without having to attend a gathering.
"Nothing has stopped, we're still continuing our fight, it's just different," Disha explained.
But while there have been positive results, she is missing in-person interactions with fellow activists. Before, she says, "we could sit down and talk about things and debate about things, and make posters together. We can't really do that anymore".
Andrea Venzon, 28, said coronavirus led him to "move protests to the digital world". His group NOW! focuses on global campaigns and issues including climate change, poverty and democracy.
"We still do traditional protests on the street but we also do Facebook lives and stream events for those who cannot come because they are under lockdown or don't feel comfortable," he said.
He adds that "the closer we get to the winter, the more difficult it gets. "In the summer people felt more relaxed and at ease," he says, adding that he believes there is a "fine balance" between protecting public health and freedom of expression.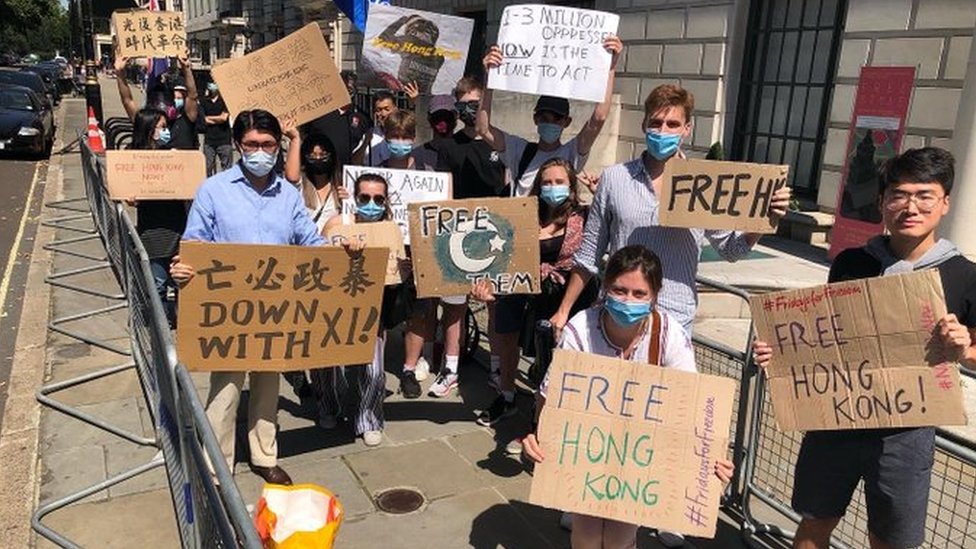 Malika said with rising cases in the UK, coronavirus would "definitely be a factor" in deciding whether she would join a protest now. But she said: "I think as long as people are being as careful as they can then the message is more important."
Ophelia Gregory, 19, who organised a protest over exam results in England this summer, said it's important that people are able to continue holding demonstrations.
"I wouldn't go out to a rave and then go to see my nan. I wouldn't do something like that. But I think it's really important to stand up for what you believe in."